Hi folks.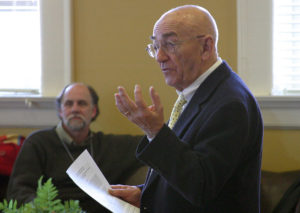 It's been quite a while since I've posted. There's a reason that they say moving is one of the most stressful times in life. It certainly is. Among the many things I've been meaning to post is my latest essay, which is a commentary piece I wrote and originally delivered at the 2015 meeting of the Southwestern Philosophical Society conference. The society met in Nashville, TN, at Vanderbilt University. That doesn't sound very Southwestern, admittedly, but it's a great group. The essay was a response to the keynote address by Dr. John Lachs of Vanderbilt. It was an honor to comment on his talk, "The Costs of Comfort." John has been a mentor of mine for close to 20 years. As you'll see in my commentary essay, however, that doesn't mean that I went easy on his argument.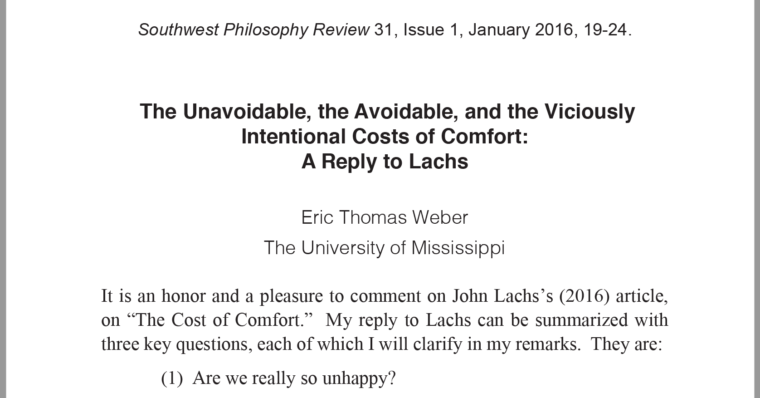 In philosophy, we say that "criticism is the fondest form of flattery." The idea is that engaging in argument with someone's ideas isn't a bad thing. It's joining in with the author in the pursuit of the truth. The honor is in taking someone's ideas seriously, thinking hard with him or her, or them, and about something of importance attended to in the piece. In this essay, I respond to Lachs's arguments about "The Costs of Comfort." It's a work in progress, though the version I reply to was also published, with my response to it. The costs of comfort are significant, Lachs argues, and some of what "reformers" want to change about present problems can amount to an unwillingness to accept the costs of living the comfortable lives so many of us enjoy today. We may bemoan environmental degradation, but summers in Mississippi are brutal enough even with air conditioning.
About many examples, Lachs is quite right and reasonable, but there are, I argue, avoidable costs of comfort. There are also costs of comfort that are not only accidental, but actually intentionally targeted towards people who are thereby disadvantaged. Racism and other forms of cultural violence lead all kinds of costs of our comfort to be put upon groups made to suffer their weight. In my essay, I defend the need for "reformers," not for the basic costs of comfort, but for the many troubling cases. Many people reasonably feel for animals and I certainly agree that factory farming needs reform, but when the bugs start to get into my house or my bed, I feel no remorse for hiring the exterminator to keep certain levels of comfort at the expense of bed bugs.
That said, injustice is not some simple thing to sacrifice to beat the heat or to keep the bugs out. If we can significantly reduce air conditioning costs with white roofs instead of black ones, furthermore, shouldn't policy encourage such reforms? If we can raise chickens in far more humane ways than in the cages that are so troubling, why not endure the small discomfort it takes to make that change? Reform can overreach and be unrealistic, but it can also be absolutely vital for good people to sleep at night.
It's easy for the most comfortable among us to focus on the simpler examples than injustice. Yes we like our comforts, but in time, so many innovations can at least reduce the costs we cause, and still other costs are simply unjustifiable.
If you want to check out my essay, which is a lot more specific than this quick post, visit my Academia.edu page with the piece.
If you're interested in a speaker for your event, visit my speaking and contact pages. You can also "like" my Facebook author page and follow me on Twitter @EricTWeber.