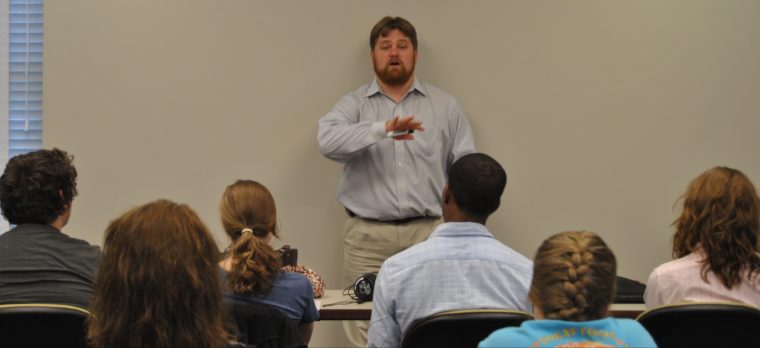 I love to talk with people about ideas & issues that matter. If you are looking for a speaker for an event or for a group you meet or work with, contact me and let me know just what you're looking for. Here's a little information about 1) my experience speaking with various kinds of groups (audiences), 2) topics for talks I've given and look forward to giving, and 3) a few testimonials.
1. Audiences
I have addressed:
business and professional organizations (Chamber of Commerce, Leadership development, annual professional association meetings, teacher training, & ethics education)
community groups (churches, local leadership clubs, reading groups, PTAs)
academic institutions and associations (scholarly conferences, lecture series, panels, and advocacy training seminars)
classrooms, both small and large (college and universities' business schools, law schools, leadership programs, and policy, philosophy, and ethics class meetings, as well as talks with high school students)
Newspaper, radio, and television news outlets (interviews for The Wall Street Journal, The Clarion Ledger, The Tehran Times (Iran), local NPR affiliates like MS Public Broadcasting and UALR radio (AR), Memphis's Live at 9 show, WLOV Tupelo's This Morning show, and WLOX Biloxi's News at 4)
For a few examples, I have given talks on Democracy and Leadership, my 2013 book, at Northern Arizona University, Bemidji State University, Leadership LaFayette of Oxford MS's Chamber of Commerce, Webster University in Saint Louis, the University of New Orleans, the Tupelo Community Foundation, Georgia Tech, and the Mississippi Association of Student Financial Aid Administrators' annual conference.
In 2015, I have met with and spoken to numerous audiences about Uniting Mississippi at book signings in bookstores, on television news stations like WLOV Tupelo and WLOX Biloxi, and on the radio. I gave a talk and held a book signing at the Clinton School for Public Service at the University of Arkansas in Little Rock (short promo here and full video here). I have also given or scheduled talks at the University of Southern Mississippi, Purdue University, Michigan State University, and the University of North Carolina Charlotte, as well as an interview on WDAM Hattiesburg.
2. Topics
My training is in the field of Philosophy and my focus is on ethics, the philosophy of leadership, social and political philosophy. I apply these in particular in connection to issues about democracy, education, public policy, and economic development. I can also give talks on the subjects of the books and articles I  have published. I have also run workshops on how to engage in public philosophy, how to write op-eds for newspapers and other outlets, and how to be a clear, thoughtful, and consequently confident communicator. A number of my talks have focused on various questions about leadership. Others have been about and will in the future concern my works in progress, such as on the role of culture in justice, on John Dewey's example as a public philosopher, and on how best to understand the crucial value of unity for an enormous and complex country like the UNITED States of America. In sum, these topics include:
General Talks
Clear Thinking for Confident Speaking 
Educational Culture of Encouragement: End Corporal Punishment
Rethinking Economic Growth: The Cultural Roots of a Catch-22
Talks for Scholars and Academics
Public Philosophy and Intellectual Leadership
Writing Op-Eds: On Scholarly Public Engagement
Engaging Students Through Argument
3. Testimonials
A lot of people have said or written me kind words about talks I have given and pieces I have written. At some point, I'll dig them up and put more together. For now, here are a few that I was able to quickly pull up.
About my talk at Georgia Tech in 2014 on Democracy and Leadership, a student who attended the talk wrote me afterwards to say:
I wanted to give a full 'Thank You' for your extremely insightful presentation. I was truly inspired by your lecture and your analytical basis for your thought. Although Georgia Tech is well‐known for its strong engineering program, I am currently a business (and hopefully public policy) major. With that said, I notice a lot of the students on campus are overly focused on created the next big thing, bigger and better innovations, and forget about what the actual problem is and the ethics involved. I think your presentation not only helped me, but the many engineering students, open our eyes. You have gained a new fan! I look forward to reading your new book and catching up with you or attending another one of your lectures in the future.

– Annie Son, Class of 2018, Scheller College of Business, Georgia Institute of Technology, Atlanta, GA
From a presentation I gave in 2015 for the Emerging Leaders program at the University of Mississippi, a high school student and prospect for the university wrote me afterwards to say:
Never have I sat through such a stimulating or interesting class. Thank you so much for your time during the Emerging Leadership Workshop. I thoroughly enjoyed it. I hope to see you in the fall and possibly talk more.

– High School student from Ridgeland, MS
Contact Me
If you're interested in having me come speak with your organization, visit my Contact page. If you want more information for news purposes or for a one-stop place for information on my work, visit my Press Kit here. Finally, connect with me on Facebook, Twitter, and LinkedIn.