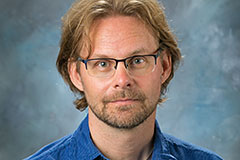 Dr. Tadd Ruetenik of St. Ambrose University published a review of my 2013 book, Democracy and Leadership, in the second 2016 issue of The Pluralist. I subscribe to the journal, but since I moved last June, I have not yet received the issue. I still have some address information to update for a number of subscriptions and such, it seems. I was delighted to get my hands on the review through other means, therefore, when Tadd was kind enough to share a digital copy of it with me.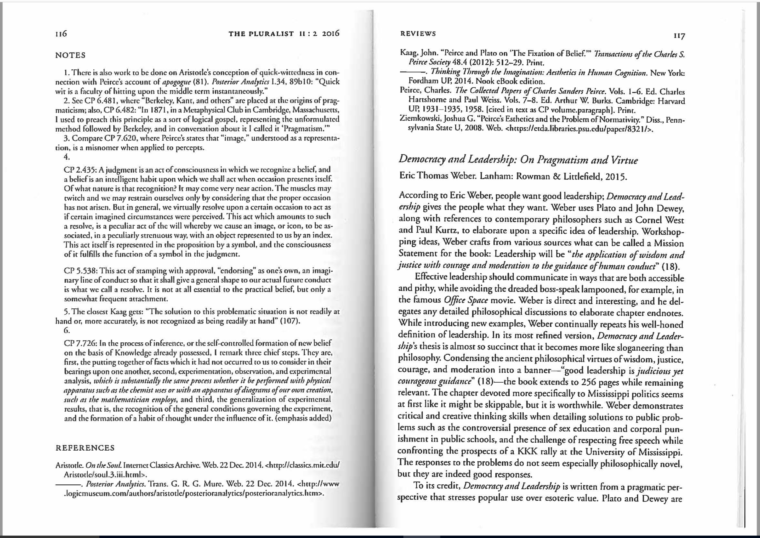 Click on the image for a text-searchable Adobe PDF version of the review.
A good review explains a book's main point and approach, showcases some strengths, and offers some points of potential disagreement. In many reviews, that formula is often undertaken in all too formulaic a way. Ruetenik's review has a depth of thoughtfulness and a sharp discernment about differences in our points of view that is deeply refreshing. Plus, where he inclines in different directions, he nevertheless exhibits the philosopher's humility in understanding why others incline in other ways. In the popular press in Mississippi, my more recent book was dismissed as excessive optimism by one older, jaded progressive and rejected as far too moderate and modest by a young, not yet jaded man on a mission. It was like the old economist's joke. With your hair on fire and your feet in ice, on average, you're quite comfortable.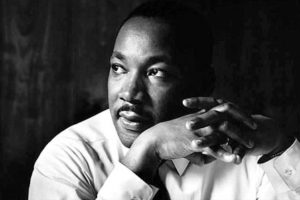 I'm definitely an advocate for moderation and believe that, like MLK, one can be militant yet moderate. Ruetenik appears to disagree, but naturally, I think. The concepts certainly seem to be in conflict, on the surface anyway. A moderate person in an immoderate, unjust society, may be called radical, as King was. But when Aristotle referred to the mean between extremes, he did not mean a simple matter of the average of others' extremes. The moderate is what is right, and one's society can be far from the mean. Calling for justice courageously can seem immoderate, but, I believe, that one's means for calling for change can demonstrate moderation while pushing heroically for change.
These remarks are initial thoughts I have about the great feedback I have received from Tadd. The best thing about Tadd's review is that, unlike so much other feedback one can receive, his makes me want to return to the project. In fact, I've been meaning for years to write a paper about how I believe my theory of democratic leadership can help us to explain and theorize elements of King's democratic leadership efforts, which I see as a confirmation of the value of my theory. Of course, there are important contributions at work in the Malcolm X's out there, yet even he, when you look at what he said, often was far more reasonable and democratically respectful of people and inquiry than he was painted in his day. He accepted the label of extremism, but in his own way showed how moderate the values he represented were, such as in the values of liberty, self-respect, self-defense, and more.
I don't want to get too far afield here today, but my excitement over thinking about this topic again is not something I commonly experience when I encounter a review of my work. It is a testament to Ruetenik's probity, his sincere and interesting engagement with the ideas of the book, and his reasonable differences of opinion that inspire me to think and write more on the subject.
To his speculation about public office, I'm with Plato in thinking that in general, one probably ought to feel called to leadership. You need the right environment and to believe genuinely that you are the person who might really have what the public needs. That takes a balance of circumstances related to the mandate-independence matter. Thus, you've got to be a part of a community in which you will represent people, not merely in terms of what the public calls for, but as someone whom you believe the relevant public would choose for his or her own values. That takes the alignment of quite a few stars. If one day the stars do align in such a way, then I might pursue service to my community outside the academy, beyond public writing and speaking. I don't think it would be such a problem to learn from Kurtz, whom Tadd mentions. The many deists who contributed to the U.S. Constitution are lauded despite their divergences from some Americans' beliefs. The important thing is whether or not a person seriously embraces the right values and has the wisdom, courage, and humility to listen and serve others in the deepest, most democratically respectful manner that he or she can.
All these are initial thoughts, hence posted here on my site only. Still, I can feel renewed energy for thinking about democratic leadership and am thus profoundly grateful to Tadd for his review and challenges in The Pluralist. If you all are interested in reading what he had to say, check it out here.